Management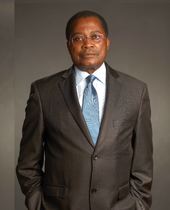 We are committed to the development of Africa 
Samuel Dossou-Aworet - FOUNDING CHAIRMAN
Engineer of the Ecole Centrale de Marseille in Petrochemistry and Industrial Organic Synthesis (previously IPSOI 1971) and Engineer of the French Institute of Petroleum (ENSPM 1972) with over 40 years of experience in the oil and mining sector.  He has held high-ranking positions within State structures and in the private sector.
He served as Chairman of the Board of Governors of the Organization of the Petroleum Exporting Countries (OPEC), and Chairman of the Expert Committee of the African Petroleum Producers Organisation (APPO/APPA). He is a Founding member, and the first Chairman, of the African Petroleum Institute. He is a board member of the Corporate Council on Africa (CCA), a member of the African Energy Leaders Group - West Africa (AELG).
Mr. Samuel Dossou-Aworet plays a strategic role in the promotion and the development of oil majors and African companies in Cameroon, Congo, DRC, Equatorial Guinea, Gabon, Côte d'Ivoire, Namibia, Senegal, South Africa, Uganda, etc. He is Chairman of ND Western.
Mr Samuel Dossou-Aworet is the chairman of the "African Businessmen Round Table" (ABR), and the Vice-Chairman of the "Pan African Private Sector Trade and Investment Committee" (PAFTRAC).